Immediate Release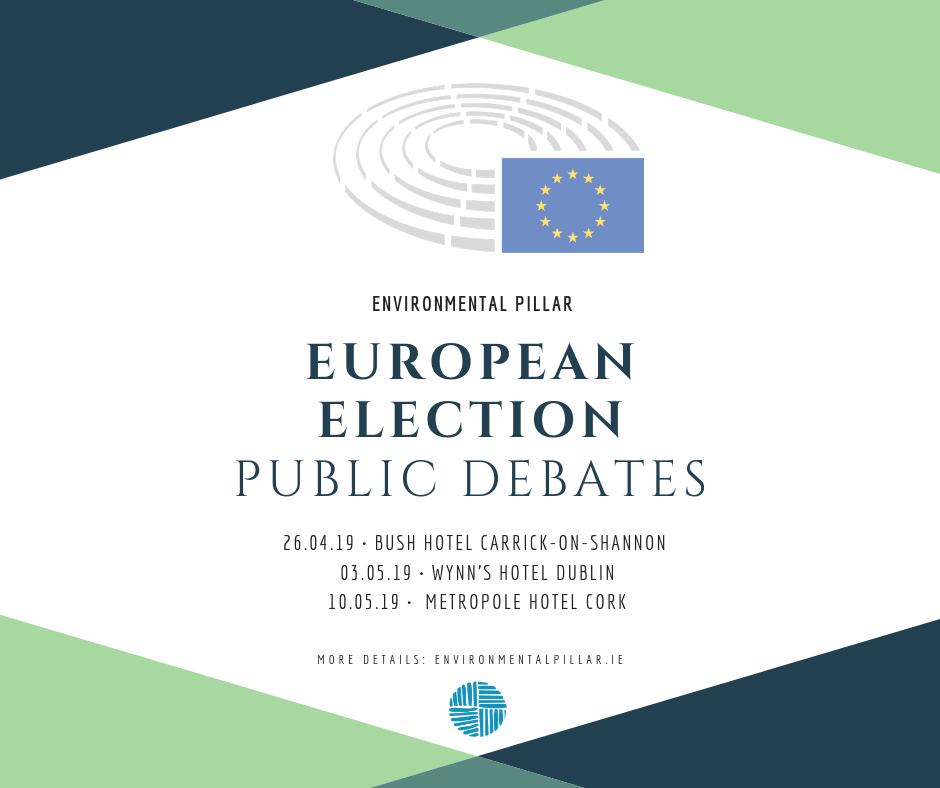 Over 100 citizens are set to gauge where EU election candidates stand on key environmental and climate issues at a public debate in Co Leitrim this month before polling stations open in May.
The event in the Bush Hotel in Carrick-On-Shannon on Friday, 26 April will see concerned citizens challenge candidates from across the political spectrum to outline their green credentials in advance of the upcoming European Elections.
The event will be streamed live from the Pillar's Twitter page for those who cannot attend from 7PM-8.30PM tomorrow: https://twitter.com/Env_Pillar 
The event organised by the Environmental Pillar – a coalition of over 30 national environmental organisations – will also provide an opportunity for the candidates to set out their commitments and assurances with regard to protecting Ireland's fragile environment.
Now, citizens will have the opportunity to directly signal to MEP candidates the ambition that they want to see at a European level, with climate change is set to be a hot topic as Europe needs a radical policy shift to cut emissions by 2050 to avert the worst climate impacts.
Sure to be hot on the attendees' list of questions are where candidates stand on forestry policy in Leitrim, the future of the carbon tax, the recent school strikes for climate and the Extinction Rebellion moment.
Confirmed candidates include:
MEP Matt Carthy, Sinn Fein, MEP Luke 'Ming' Flanagan, Independent, Saoirse McHugh, Green Party, Cyril Brennan, People Before Profit, Dominic Hannigan, Labour Party and Peter Casey, Independent
Biodiversity decline is also high on the agenda, with over 90 per cent of habitats in Ireland under pressure. Last year, international experts warned that two-thirds of European habitats now have unfavourable conservation status.
Clearly, Europe needs a fundamental rethinking in terms of climate and biodiversity protection if the bloc is serious about protecting our future and our citizens will have their say on how our elected officials do so at the hustings later this month.
The event in the Bush Hotel will be moderated by Micheal O'Cinneide, a former Director in the Environmental Protection Agency.   
The Pillar will host two further sold-out public debates with with MEP candidates in Dublin (3 May 2019) and Cork (10 May 2019). Link to events here: http://tinyurl.com/y2uunejr
Environmental Pillar coordinator Michael Ewing said:
"We need a fundamental rethink of the kind of Europe we want to really bridge the gap between the EU and what its citizens want in terms of environmental and biodiversity protection.
"This public debate will be an opportunity for MEP candidates to hear the views of as many Irish citizens as possible on the kind of Europe they want that leads on climate action and biodiversity protection.
"Citizens are crying out for a vision for the future of Europe that puts climate action, biodiversity protection and environmental justice at the core of the bloc's policies.
"I would hope that that the public's response makes the candidates think long and hard about the kind of elected officials they want to put Ireland at the forefront of progressive environmental policy in Europe.

 "This is a great opportunity for Irish citizens to contribute towards charting the way forward to a more progressive and inspiring new vision for Europe and building a sustainable future for the EU.
The debate moderator, Micheal O'Cinneide said: 
"This is a great opportunity for you, the citizens, to come out and have your say on Water Quality, Climate Change, land use in the West of Ireland, energy policy or a range of other environmental issues where Europe has a role. 
"We are especially keen to see the younger generation join us at the Bush hotel in Carrick, on Friday evening, 26th April. Beidh fàilte romhaibh!"